Oh, Canada. The land of maple syrup, beavers, and low-quality animated works, apparently.
As a Canadian, it truly pains me to insult my favourite form of entertainment that originates from my very own country. However, Canada isn't exactly known for being at the frontier of acclaimed animated works. Some examples of these low-rated series include:
Johnny Test 
Angela Anaconda
Jimmy Two-Shoes
George of the Jungle
Rocket Monkeys
Many American production companies are approaching Canada to animate various television series (mainly because of its depleting dollar value, which is a selling point to US-based producers). So despite having created less than favorable works, Canada has actually had its hand on the actual animation of some acclaimed titles that are currently on air:
Rick and Morty
Bob's Burgers
My Little Pony: Friendship is Magic
But in terms of Canadian content creation, there aren't many companies that dabble in the actual conception process—which is a real shame. However, in American entertainment companies taking advantage of the relatively low Canadian dollar, Canada is at least able to participate in a portion of the creation process. This is important as it showcases the country's talent pool of animators, which can, and has, open(ed) many doors of opportunities in the production of animated works originating in Canada.
One company that had shown some potential at one point is Fresh TV, also known as the Toronto-based studio responsible for the creation of the long-lived Total Drama series. This was essentially a drama-filled parody of a Survivor-like reality series. This show ran for 5 seasons in total (6 if you count The Ridonculous Race) and reached immense popularity in the United States (on a Canadian-based scale at least). However, it seems like Fresh TV is moving away from animated works with the conclusion of Total Drama and lack of success from the cartoons that followed.
This leads us to an important question: Why exactly is Canada lagging behind? Its creative sector is overflowing with talent, and both Vancouver and Toronto are becoming new global hubs of entertainment; so why exactly is its content rarely, if ever, at the frontier of mainstream media?
Well, Canada doesn't exactly place a large amount of funding into its entertainment industry. The reason being, it is approached as part of the cultural industries rather than seen as an economic force. The reason Hollywood is able to gain so much funding is because the state is aware that the film and television industries rake in billions of dollars per year. Canada, on the other hand, tends to play its cards very safe, so doesn't fight for greater funding for its entertainment industry since it's essentially a risky arena. Culture is surely a pretty thought, but it doesn't make for much convincing on the governmental level to invest billions of dollars annually into the sector.
Additionally, importing American works is a lot less financially risky compared to creating original content. For the purpose of maintaining Canada's cultural integrity, there is a quota in place in that a percentage of content displayed through Canadian broadcasters during primetime hours needs to be Canadian-produced; but because American works are typically high-budget, its difficult for Canadian series to compete in quality. As such, broadcasters have been fighting for a lower percentage quota skewed in favor of Canadian content, as they argue that it results in the loss of viewership. So far, this percentage has opened up a door of opportunities for Canadian content creators, but when not backed by appropriate funding, it's difficult to deliver high-quality works. This is why many Canadian cartoons either have low-quality animation, low-quality writing, or a mix of both.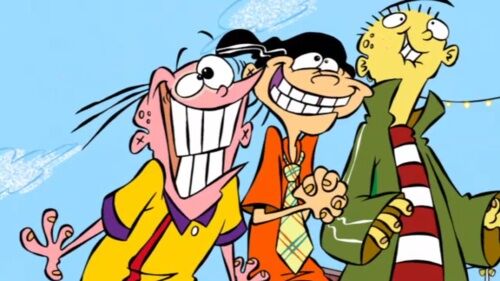 On the other end of the spectrum, Canada has its name on a small handful of popular works in the past:
Class of the Titans
6teen
Arthur
Ed, Edd 'n Eddy
It's not the most impressive list, but hey, at least it's something.
There are a handful of known cartoons that have been created through a joint effort involving Canada. Canadian studios are also known to collaborate with American and French companies (e.g. Totally Spies was created through a French/Canadian collaboration). So at least Canada is inserting itself into mainstream content by partnering with other companies, and vice versa.
All in all, it's difficult to assess the future of Canadian cartoons on mainstream networks; however, it appears that the industry is growing ever so slowly. Canadian studios that have accepted outsourced animation jobs are starting to become aware of their internal talent pool, and seem to be dabbling in content creation themselves. The amount of Canadian-created content is also likely to increase when the dollar reaches its previous heights—studios will likely see a downturn of work and will have to find other ways to save their bottom line, including producing and distributing their own animated works.
Here's hoping that Canada will eventually catch up.
---
A/N: Keep in mind that I am a Communication major, so my degree is all about media studies. The question of, "why is Canadian entertainment lagging?" applies to movies, television, film, books, etc. and is brought up quite often by many of my professors. This blog post touches on their collective response to the question. I'm no expert, but in assuming that my professors know what they're talking about, this is my best guess as to why Canada is rarely seen in mainstream media outlets.