Star vs. the Forces of Evil is a DisneyXD animated series about a young princess named Star Butterfly who inherits a magical wand on her 14th birthday. If this doesn't sound random enough, the story follows her as she moves from the alternate dimension of Mewnie to present-day Earth.
Although this cartoon's first impression is that of a casual watch targeted at kids, the perspective the story is told from feels surprisingly unique. The series has a subtle charm that is lacking in a lot of modern animated series. But what makes it really special is it's background progressiveness.
Characters and scenarios stray far from common television tropes; characterization, even of background persona, is in-depth, especially throughout the second season; and most significantly, its dialogue incorporates subtle messages in support of feminism (Feminist: "Someone who believes the radical notion that women are people").
The creator of this series is Ms. Daron Nefcy.
CalArts graduate.
Animator.
Storyboard artist.
Executive producer.
Oh, and not to mention, the second woman who has created a Disney Television Animation series.
That's right, an animation production company that has produced over 50 animated television series since 1985 has only two titles under its name that are female-created (the other being Pepper Ann from 1997-2002).
The messages of Star Vs. are so ingrained in its plot and characters that after discovering this fact, it becomes clear that the "refreshing perspective" the series is told from, is an underrepresented female one.
A plot device that acts as the series' structural basis is the use of a matriarchal system within the Kingdom of Mewnie. Rather than the King being the most powerful figurehead of the empire, as seen throughout history, the Queen actually wields the highest power in this universe. Not only is the Queen the most powerful force in terms of politics, but she controls magic and was passed/passes the wand through the female bloodline; hence Star receiving it when she turns 14.
On top of functioning within matriarchy, unlike a stereotypical princess, Star is very irresponsible, rash, and naive. She also likes to "fight monsters" and "tame wild warnicorns" (unicorns used as war vehicles) during her spare time. Her interest in being the current princess (and future Queen of Mewnie) is very minimal; instead she would rather live a fun and obliviously-destructive life.
The representation of female characters in the series is not problematic in the slightest. Star is a very powerful and unique individual who doesn't back down from a fight, both physical or verbal. Despite having a female protagonist—which is also not hugely common in animation—and a matriarchal premise, Star Vs. doesn't highlight these features as anything special; rather, it smartly keeps them in the background as just another part of the alternate world, rather than token aspects of the series (which female-empowerment is often promoted as).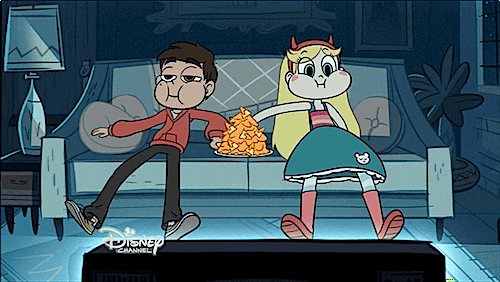 The series' progressiveness isn't only grounded in female characters. In addition to being of Latino decent (point 2 for visible minorities), Star's best friend, classmate, and home-stay roommate, Marco Diaz, has no socially problematic qualities. He is an excellent friend to Star and genuinely cares about her well-being. He doesn't attempt to overshadow her or prove to be superior in any way. Rather, he acts as her support system in a world that she is unfamiliar with.
In the season 2 episode, Mr. Candle Cares, Star begins to resent her inevitable future title of Queen of Mewnie. When venting to Marco about her distaste for her bleak future, he replies with:
"Aw man, I would love to be Queen. You never have to think about what to wear, you have somebody do that for you. People would just love you because they have to, no matter how weird you are . . ."
Like much of the dialogue in Star Vs., this is just one example of its narratively-subtle feminism that doesn't feel forced. In other words, it is clear that the series' writers isn't made up of people working to determine the best way to insert feminist hints, but rather creating dialogue that just fits naturally into the premise of the series. Let's take a look at Marco's line once again:
"I would love to be Queen . . ."
Can you think of any other animated series where a male character expresses his direct desire to be in a defined female role?
And the best part is, if you stopped paying attention for one second, you would completely miss it.
Subtle progression is powerful in that it normalizes the social conditions that are presented. If the series were to tell her story in a way that emphasizes the feminist point (in this case, Marco's desire to become Queen) the scene would be weaker in combating the tropes and norms that viewers are exposed to in modern-day television.
Of course, this is all just based on my opinion. But with Daron Nefcy presently working on this series (along with creator of the very popular and socially progressive Steven Universe, Rebecca Sugar), the door for successful female creators is being opened in the animation industry. And so far, it is leading to very diverse and progressive narratives.