From My Little Pony: Friendship is Magic (2010 – present)  to Transformers: Robots in Disguise (2015 – 2017)  Hasbro Studios has been behind the production of a wide variety of animated television and web series. As one of the largest toy-manufacturing companies in the world, it's no surprise that the creation of its sudio's series are directly tied to merchandising.
Hasbro is not the first production company that uses merchandising as a way to justify the hefty financial investment that corresponds with animation. In fact, Disney has used this business strategy for decades in order to increase its project's revenues outside of the big and small screen. The difference between Disney's production however, is that storytelling is of upmost priority, while toy sales only follow. On the other hand, the creation of works by Hasbro Studios are directly tied to and financially dependent upon the production and distribution of merchandise.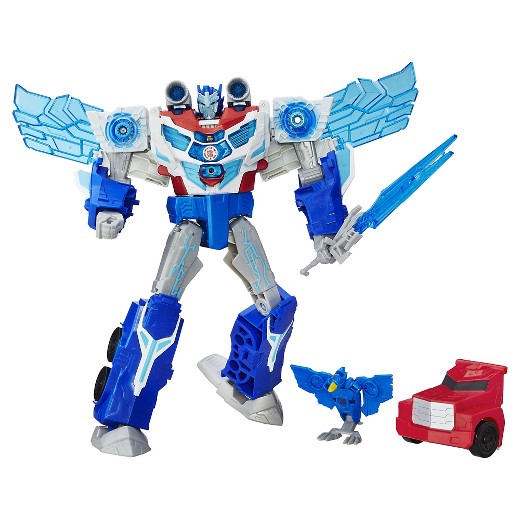 The conception of works is based upon their potential marketability to either young boys or girls. As series directly conceived on capitalistic foundation, it's no surprise that many older viewers are heavily against these projects as many have the potential to tell an excellent story, yet are clearly restricted by market demand.
My Little Pony: Friendship is Magic is an outlier of this statement, as Lauren Faust did an amazing job in its initial development. And rather than focusing on what toys would sell, she and her team's main priority has been to create something of high quality. Although Faust is no longer a part of the series' production, her legacy has been carried over by the writers and storyboard artists who stayed around.
The topic of discussion however, is of a new Netflix series produced by Hasbro Studios titled: Stretch Armstrong and the Flex Fighters. This Netflix original series was released in October of this year and has a total of 13 episodes along with an IMDB score of 7.2/10. A promotion for the series was released on IGN's YouTube channel, but was greeted with many comments against the series:
FistbumpBros: This animation style. Just, wow. You'd reckon in 2017 they could just up the frames?
Muctaru Bah: Gotta makes that money
Gol. D Rodger: Why the black guy always a big muscular loudmouth or a complete dweeb… all I see is white dude with his black and Asian sidekicks yawn…
OTHE: But Why … ?
W01fman: $$$$$$$$$$$$$$$$$$$$$$$$$$$$$$$$$$$$$$$$$$$$$$$$$$$$
Klaud Speed: I'm guessing a new toyline. This time you gotta buy his stretchy friends and enemies too.
The Illuminati: I remember Stretch Armstrong being a muscly guy not a teenage kid.
Cat's Tuxedo: Muscly guys aren't as hip and marketable to their target demo.
YesteryearsGamer: Seriously… what? My only guess is, they wanted an excuse to renew the license. Or they're bringing out new toys. Well, it is Hasbro, so it all comes back to toy sales for them.
Despite the subpar ratings, and the somewhat valid comments shown above, Stretch Armstrong and the Flex Fighters is reminiscent of a combination of both Spectacular Spiderman and Ben 10: Alien Force. The series in question is actually produced and directed by Victor Cook who worked on the former project, and it definitely shows in both its art style and dialogue points.
While it is obvious that the series' central focus is marketability through its character and design choices, many outside features (dialogue, plot, etc.) are quite creatively satisfying. The series is self-aware to a degree in subtly poking fun at cliché superhero tropes, which is one of its strong points. Dialogue can be very comedic, sharing the humor of its brother series Spectacular Spiderman. Some characters are very endearing and dynamic such as Jake, Nathan, and Erica; while others such as Ricardo and Riya fall flat, but additional character exploration can reverse this. Overall, the pros well outway the conceptual flaws and campy premise of teenage heroes granted with elasticity-themed powers. It is an enjoyable and light-hearted series which makes for a very high re-watch value.
While consumerism may not be the ideal platform for any form of storytelling to be built on, at the end of the day, it provides avid cartoon viewers with more animated content. It's important to keep in mind that chastising a series for its capitalistic roots does not entirely exclude traditional television that thrives on advertising dollars. The clear difference is that Hasbro Studio's series are directly tied to merchandise sales and need to cater its content to the production and distribution of products— while traditionally-aired series are expected to indirectly cater to advertisers through staying within their conceived target market. Overall, both routes are influenced by capitalistic undertones with are inherently just another component of entertainment; as such, should the level of capitalistic sway really be a defining factor of what makes an excellent series? Or rather, should a series be automatically reprimanded simply because it is funded by a children's toy corporation?
In the Internet-dominated (Western) world, and as mentioned in my post titled Teen Titans GO! Does it Really Deserve all of this Hate?, the increase of streaming and torrenting, means that creatives are required to find different sources of funding in order to make their vision come to fruition. So can we really blame studios similar to, and including, Hasbro's if the result is more opportunities for storytellers, animators, and producers to do what they love while providing their audience with some form of entertainment?
---
Like the vast majority of the articles I post, I honestly had no idea where I was going to take this. The flow state really took over, and I just began writing whatever came to my mind. This makes for some interesting (and sometimes unstructured) articles. Either way, I would love to hear your opinion on the topic of animated series conceived for the purpose of selling merchandise. Should they be considered low-brow entertainment? Or should this aspect be disregarded as long as the works are entertaining? Let's have a discussion.